Information, communication and networks (ICICN) is a rapidly evolving field encompassing the study of various technologies for communication and data transmission. With the growing demand for high-speed, reliable, and secure communication systems, ICICN has become a significant area of research and development. Current research includes the development of new communication protocols, network architectures, routing and congestion control algorithms, and exploration of new technologies like 5G and the Internet of Things (IoT). Furthermore, the application of ICICN technologies in healthcare, transportation, and smart cities has garnered significant attention.
The 2023 IEEE 11th International Conference on Information, Communication and Networks (ICICN) is set to take place in Xi'an, Shaanxi, China during August 17-20, 2023. ICICN 2023 is sponsored by Northwestern Polytechnical University, South University of Science and Technology of China, Beijing University of Technology, Xi'an Jiaotong University, Xidian University, and Nanchang Hangkong University, co-sponsored by IEEE, IEEE Photonics Society, IEEE China Council SEN SYSC Jt. Chapter, and IEEE Xi'an Section BT Chapter, organized by the School of Automation at Northwestern Polytechnical University, with patrons from Shaanxi Normal University, Xi'an University of Technology, Macau University of Science and Technology, among others.
ICICN is an annual conference launched in the year of 2013 and has been successfully held in various locations worldwide. The conference provides an excellent opportunity for researchers, scholars, and scientists in the fields of information, communication, and networks to exchange their ideas face to face. The organizing committee warmly invites you to participate in ICICN 2023 in Xi'an. With your contribution, we can advance the state-of-the-art in information, communication, networks techniques, and their applications.
File Downloads: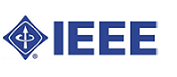 All submissions will be peer reviewed. Accepted, registered and presented papers will be published in the ICICN 2023 IEEE conference Proceedings, included in IEEE Xplore and indexed by EI Compendex, SCOPUS, etc.

ICICN 2023 is listed in IEEE Conference Calendar. (Click)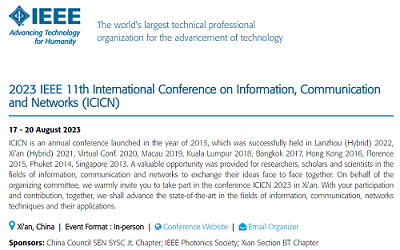 Delegates are encouraged to submit their papers/abstracts to the conference. High quality papers will be selected by the journal chair and recommended to the following journals after extension. Please kindly indicate your preference when you submit. For more, feel free to contact us via icicn_conference@163.com
High Visibility: indexed within EI Compendex, Scopus, SCIE (Web of Science), etc
Impact Factor: 1.678
Chaired by: Lisu Yu, Nanchang University, China

High Visibility: indexed within Scopus, SCIE (Web of Science), etc
Impact Factor: 2.940 (2021); 5-Year Impact Factor: 2.834 (2021)
Chaired by: Xiaojun Yu, Northwestern Polytechnical University, China


Nondestructive Testing and Evaluation  

Impact Factor: 2.098 (2021)

Chaired by: Xiaokang Yin, China University of Petroleum (Huadong), China


Impact Factor: 2.592 (2021); 5-Year Impact Factor: 2.542 (2021)

Special Issue: "Mathematics: Applications of Big Data Analysis and Modeling"

Chaired by: Chao Gao, Northwestern Polytechnical University, China


Indexed In: indexed within EI Compendex, Scopus, SCIE (Web of Science), etc

Impact Factor: 2.92

Chaired by: Xi Han, North China University of Technology, China


Journal of Information Science and Engineering

Indexed In: indexed within EI Compendex, Scopus, SCIE (Web of Science), etc

Impact Factor: 1.142
Special Issue: "Signal Processing Techniques for Sustainable Communication in Underwater Acoustic Networks"

Chaired by: Lisu Yu, Nanchang University, China

Impact Factor: 3.9 (2022); 5-Year Impact Factor: 4.050 (2021)

Special Issue: "Nondestructive Technologies for Complex Engineering Structure Health Monitoring and State"

Chaired by: Nan Li, Northwestern Polytechnical University, China
Final Submission Deadline: May 25, 2023
Notification Deadline: July 05, 2023
Final Registration Deadline July 30, 2023
Camera Ready: Before August 05, 2023