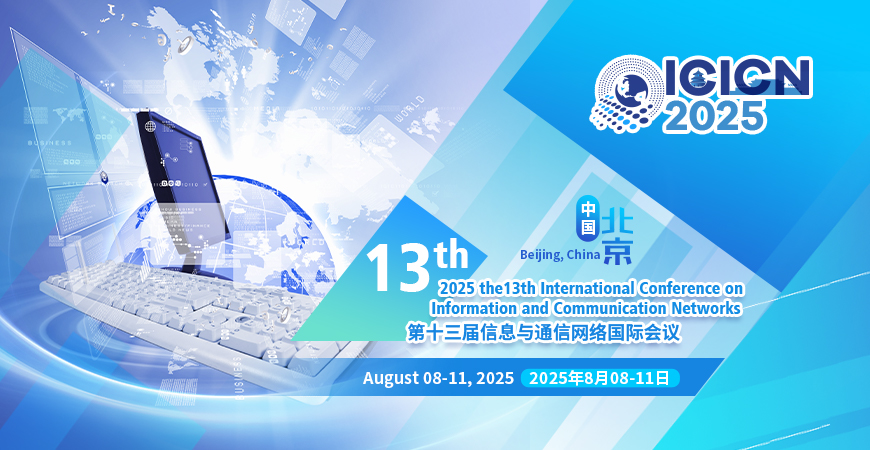 The 9th International Conference on Information, Communication and Networks (ICICN 2021) is to be held in Xi'an, China during August 19-22, 2021. ICICN is organized by Shaanxi Normal University, China, co-organized by Xi`an Jiaotong University, China, Northwestern Polytechnical University, China, Xi`an University of Posts & Telecommunications, China, technical supported by Macau University of Science and Technology, China, Xi'an University of Technology, China, Huazhong University of Science and Technology, China, Shaanxi University of Science & Technology, China, Liaocheng University, China etc.
ICICN 2021 is to publish latest & high-quality research works on Information, Communication and Networks in theoretical and practical aspects. Authors are solicited to contribute to the special issue by submitting articles that illustrate research results, projects, surveying works and industrial experiences that describe significant advances.

ICICN is an annual conference launched in the year of 2013. We had this conference successfully held in Virtual Conf. in 2020, Macau in 2019, Kuala Lumpur in 2018, Bangkok, Thailand in 2017, Hong Kong in 2016, Florence, Italy in 2015, Phuket, Thailand in 2014, Singapore in 2013. It will provide a valuable opportunity for researchers, scholars and some scientists to exchange their ideas face to face together. ICICN is very special for its strong organization team, dependable reputation and wide sponsors all around the world, which is the leading annual conferences of Information, Communication and Networks for all researchers home and abroad.
All submissions will be peer reviewed. Accepted, registered and presented papers will be published in the ICICN 2021 conference Proceedings, which can be indexed by EI Compendex and SCOPUS
After further revision, extended papers from ICICN can be published in special issues.
ACTA PHOTONICA SINICA (光子学报), which can be indexed by EI Compendex, ESCI, SCOPUS, etc. (Official Web) (ICICN is listed in ACTA conferece calendar)

Click the EC Button to submit your paper or abstract.
http://www.easychair.org/conferences/?conf=icicn20210
Note: An EC account is needed. Please register first, if you do not have one.
Full paper submission can be published in proceeding after reviewing and registration.
Abstract can be included in conference program only.